Ads were removed from the site on 2021-10-17. Updates to the site have commenced after a long hiatus. More to come.
Crazy Climber 2
(クレイジークライマー2)
Released in 1981
Developer: Nichibutsu
Manufacturer: Nichibutsu
Distributor: Nichibutsu

(0 total votes)

Game Summary
Sequel to Crazy Climber. Climb a building and avoid falling obstacles. A Japanese game featuring excrement that actually made it to the states!
Hardware Info
Controls: 2 Joysticks
Horizontal-mounted Raster monitor
288 x 224 Resolution
Colors: 2048 Color
Additional Hardware Info (from Mame)
68000 cpu @ 8 Mhz
Z80 cpu @ 3 Mhz
YM-3812 audio @ 4 Mhz
DAC audio
DAC audio
Mame ROMs
cclimbr2, Crazy Climber 2 (Japan)
Game Details
Climb up the face of a building in the shortest amount of time. If your time ran out you would fall, or if you got knocked off again you would fall. You had to face numerous obstacles like old ladies dropping flower pots on your head, large birds dropping both eggs and excrement, and somewhere before the top you would run into King Kong, not to mention falling bricks and razorblades.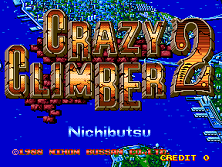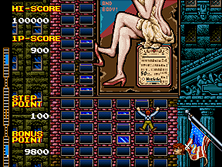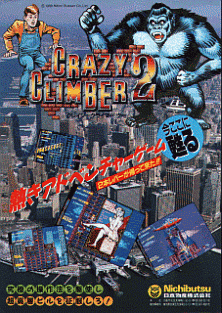 Search the following for Crazy Climber 2
This game page was created 8/3/1998 12:00:00 AM and last updated 2/16/2000 12:21:50 AM