Ads were removed from the site on 2021-10-17. Updates to the site have commenced after a long hiatus. More to come.
Munch Mobile
(マンチモービル)
Released in 1983
(0 total votes)

Game Summary
Drivin' and Eatin'.
Additional Hardware Info (from Mame)
Z80 cpu @ 8 Mhz
Z80 cpu @ 6 Mhz
AY-8910 audio @ 1 Mhz
AY-8910 audio @ 1 Mhz
Hardware Platform
SNK Unique
Mame ROMs
mnchmobl, Munch Mobile
Game Details
Very strange driving game where you drive a vehicle down the road (using one joystick) and, using the vehicle's giant hand (using the other joystick) grab fuel, fruit, etc. from the sides of the road without hitting the hand on other vehicles or trees, etc.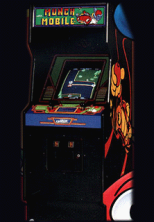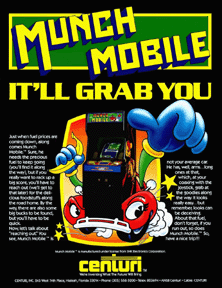 Search the following for Munch Mobile
This game page was created 8/3/1998 12:00:00 AM and last updated 12/13/2021 6:38:28 AM