Ads were removed from the site on 2021-10-17. Updates to the site have commenced after a long hiatus. More to come.
Ninja Spirit
(最後の忍道)
Released in 1988
Developer: Irem
Manufacturer: Irem
Distributor: Irem





(1 total votes)
Game Summary
Ninja fighter.
Hardware Info
Controls: 1 Joystick / Button(s)
Horizontal-mounted Raster monitor
384 x 256 Resolution
Colors: 1024 Color
Additional Hardware Info (from Mame)
V30 cpu @ 16 Mhz
Z80 cpu @ 3 Mhz
YM-2151 audio @ 3 Mhz
DAC audio
Hardware Platform
Irem M72
Mame ROMs
nspirit, Ninja Spirit
nspiritj, Ninja Spirit (Japan)
Game Details
Plot: Evil warriors kill a ninja master and he dies. His companion, a lone wolf, restores his body by giving him his soul. He then takes revenge on the evil warrior of Japan and eventualy kills the leader.
Ninja Spirit has about 10-12 stages, a lot of ninja weapons, big samurai and ninja bosses. Some stages are upside down at times, there are battles in the rice fields and more. Good action game with a nice ending when the ninja transforms back into the white lone wolf when the ninja's soul is avenged.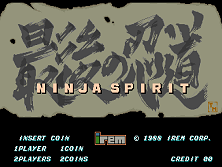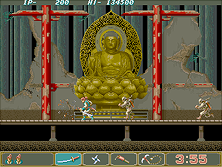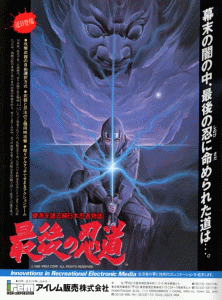 Search the following for Ninja Spirit
This game page was created 8/3/1998 12:00:00 AM and last updated 6/26/2000 4:35:31 PM