Ads were removed from the site on 2021-10-17. Updates to the site have commenced after a long hiatus. More to come.
Out Run
(アウトラン)
Released in 1986
Developer: Sega
Manufacturer: Sega
Distributor: Sega






(4 total votes)

Game Summary
A car racing game. Features a realistic steering wheel.
Hardware Info
Controls: Steering / Pedal(s) / Gearshift
Horizontal-mounted Raster monitor
320 x 224 Resolution
Colors: 4128 Color
Additional Hardware Info (from Mame)
68000 cpu @ 12 Mhz
Z80 cpu @ 4 Mhz
68000 cpu @ 12 Mhz
YM-2151 audio @ 4 Mhz
Sega_PCM audio
Hardware Platform
Outrun hw
Mame ROMs
outrun, Out Run (set 1)
outruna, Out Run (set 2)
outrunb, Out Run (set 3)
Game Details
You drive a Ferrari across the U.S. within the time limit. There is a checkpoint at the end of each stage. You have a blonde sitting next to you. You can choose which course you take.
This appeared in two versions: Stand-up and sit down. It also has three tunes you can listen to while racing: Passing Breeze, Splash Wave and Magical Sound Shower.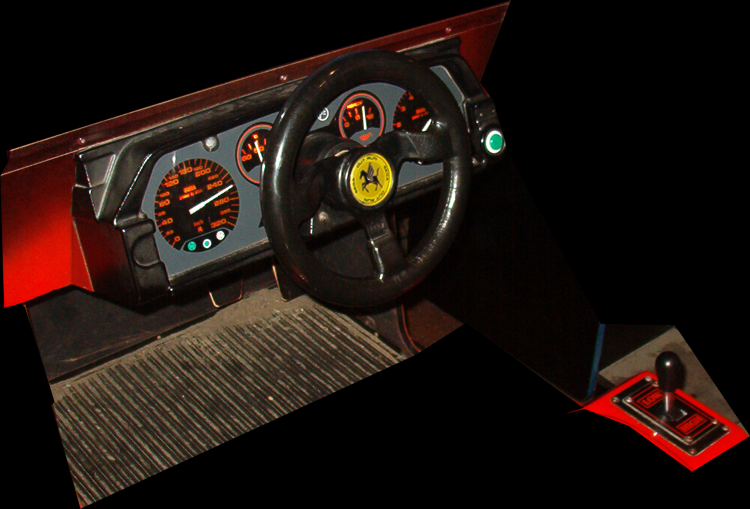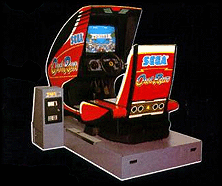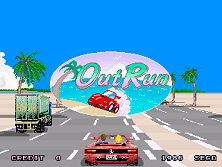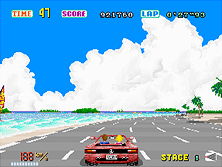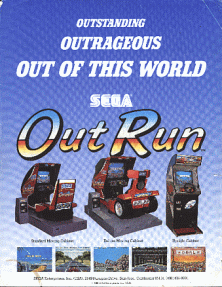 Search the following for Out Run
This game page was created 8/3/1998 12:00:00 AM and last updated 6/26/2000 5:09:55 PM