Ponpoko
(ポンポコ)
Released in 1982
Developer: Venture Line
Manufacturer: Venture Line
Distributor: Venture Line

(0 total votes)

Game Summary
Collect food while dodging creatures that walk back and forth across the platforms. Avoid apple cores.
Hardware Info
Controls: 1 Joystick / Button(s)
Horizontal-mounted Raster monitor
288 x 224 Resolution
Colors: 16 Color
Additional Hardware Info (from Mame)
Z80 cpu @ 3 Mhz
Namco audio
Hardware Platform
PacMan hardware
Mame ROMs
ponpoko, Ponpoko
ponpokov, Ponpoko (Venture Line)
Game Details
This game was licensed from Signa Entertainment, Ltd.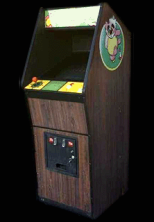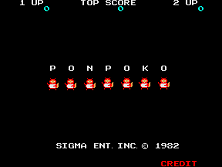 Search the following for Ponpoko
This game page was created 8/3/98 12:00:00 AM and last updated 6/26/00 6:38:16 PM