Pyros
(ワードナーの森?)
Released in 1987
Developer: Taito
Manufacturer: Taito
Distributor: Taito

(0 total votes)
Game Summary
Steer the little dude through levels of evil mobs to get to the castle and rescue your chick.
Hardware Info
Controls: 1 Joystick / Button(s)
Horizontal-mounted Raster monitor
320 x 240 Resolution
Colors: 1792 Color
Additional Hardware Info (from Mame)
Z80 cpu @ 6 Mhz
Z80 cpu @ 3 Mhz
320C10 cpu @ 3 Mhz
YM-3812 audio @ 3 Mhz
Mame ROMs
pyros, Pyros (US)
Game Details
Your a little fat kid that shoots flames at the enemy, collect different kinds of shots, from straight long shots to circular shots, represented by different icons such as sun and moon. The layout (scrolling, orientation, etc.) is similar to Rygar.
See also "Wardner."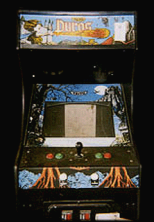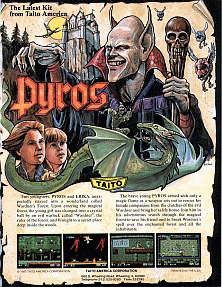 Search the following for Pyros
This game page was created 8/3/98 12:00:00 AM and last updated 9/10/99 8:52:29 AM