Ads were removed from the site on 2021-10-17. Updates to the site have commenced after a long hiatus. More to come.
R-Type II
(R-Type II)
Released in 1990
Developer: Irem
Manufacturer: Irem
Distributor: Irem






(1 total votes)
Game Summary
The Byo return for revenge! 6 Levels of absolute nightmare, as the successor to the original brings more infamous sideways scrolling action.
Hardware Info
Controls: 1 Joystick / Button(s)
Horizontal-mounted Raster monitor
384 x 256 Resolution
Colors: 1024 Color
Additional Hardware Info (from Mame)
V30 cpu @ 16 Mhz
Z80 cpu @ 3 Mhz
YM-2151 audio @ 3 Mhz
DAC audio
Hardware Platform
Irem M82
Mame ROMs
rtype2, R-Type II
Game Details
Based on Irem's M72 PCB, R-Type II did not make as major an impact as the original - perhaps as it was issued as a kit form and no dedicated hardware. The graphics are more polished than the first, looking more like Irem's later work (In the Hunt for example) with metallic looks and devilish levels.
Almost impossible to finish.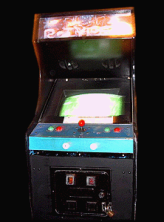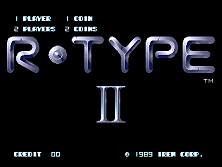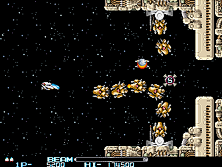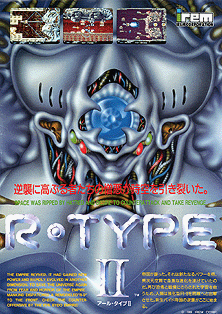 Search the following for R-Type II
This game page was created 8/3/1998 12:00:00 AM and last updated 6/26/2000 8:32:28 PM