Ads were removed from the site on 2021-10-17. Updates to the site have commenced after a long hiatus. More to come.
Fax
Released in 1983
Developer: Exidy
Manufacturer: Exidy
Distributor: Exidy

(0 total votes)
Game Summary
1 or 2 player trivia game.
Hardware Info
Controls: Buttons
Horizontal-mounted Raster monitor
248 x 256 Resolution
Colors: 8 Color
Additional Hardware Info (from Mame)
M6502 cpu
M6502 cpu
* Samples audio
Custom audio
* Information was extracted from Mame, so "Samples audio" may indicate the game has analog sound hardware.
Hardware Platform
Exidy Universal Game Board V2
Mame ROMs
fax, Fax
Game Details
Single or double player trivia game, with some great trick questions... Game is played with 4 buttons runningdown each side of the screen, corresponding with the 4 multiple-choice answers. A question appears, and a time-dial slowly counts down at the bottom of the screen. Occasionally, the game cuts away to a set of platforms and ladders, and little people representing the players climb up in a symbolic display of the intellectual achievements made. (This climbing can take a while if most/all of the questions have been answered correctly.)
Published for Commodore 64 by Epyx.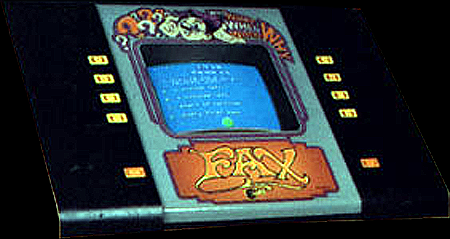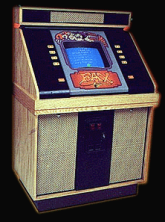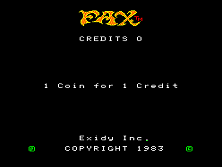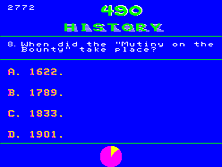 Search the following for Fax
This game page was created 8/3/1998 12:00:00 AM and last updated 12/13/2021 6:38:28 AM