Ads were removed from the site on 2021-10-17. Updates to the site have commenced after a long hiatus. More to come.
Gal's Panic
(ギャルズ・パニック)
Released in 1993
Developer: Kaneko
Manufacturer: Kaneko
Distributor: Kaneko

(0 total votes)

Game Summary
A simple Qix-like game (you draw areas that once completed fill the playfield locking the monsters away) with a cute girl appearing on the background after each level.
Additional Hardware Info (from Mame)
68000 cpu @ 8 Mhz
OKI6295 audio
Hardware Platform
Super NOVA system
Mame ROMs
galpanic, Gals Panic
Game Details
Popular in taverns and bars; game is definitely meant for adults. Play a Qix rip-off; complete 85% of the board, and a scantily clad and/or nude girl is displayed. (Nudity can be switched on and off by arcade owner.) The girl's picture is hand-rendered, but upon full completion of each board, the girl is then shown as a real digitized girl.
Game-play is itself fun, but hectic- the playfield is smaller than the field in Qix. The Qix itself is a giant tarantula in Gal's Panic, which opens up more game possibilities (it can cast a web, causing the player to slow down, etc.)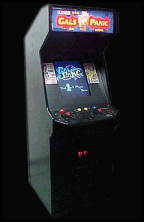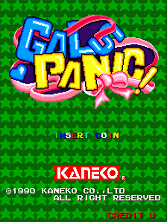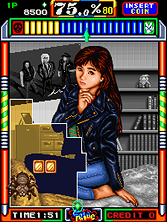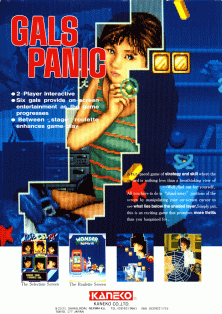 Search the following for Gal's Panic
This game page was created 8/3/1998 12:00:00 AM and last updated 6/22/2000 2:52:45 PM