Ads were removed from the site on 2021-10-17. Updates to the site have commenced after a long hiatus. More to come.
Gang Wars
(ギャングウォーズ)
Released in 1989
Developer: SNK
Manufacturer: SNK
Distributor: SNK

(0 total votes)

Game Summary
Gang Wars is Final Fight like fighter.
Hardware Info
Controls: 1 Joystick / Button(s)
Horizontal-mounted Raster monitor
256 x 224 Resolution
Colors: 4096 Color
Additional Hardware Info (from Mame)
68000 cpu @ 10 Mhz
Z80 cpu @ 7 Mhz
YM-2203 audio @ 3 Mhz
YM-2413 audio @ 8 Mhz
DAC audio
Hardware Platform
SNK Alpha 68000 Based
Mame ROMs
gangwars, Gang Wars
gangwarb, Gang Wars (bootleg)
Game Details
You are fighting on the streets, use some weapons, and kill many, many gangsters.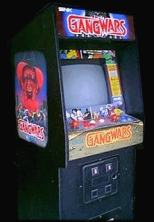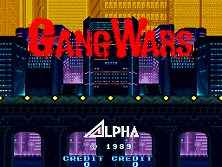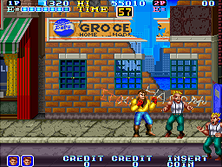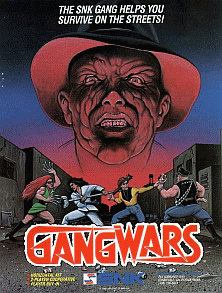 Search the following for Gang Wars
This game page was created 8/3/1998 12:00:00 AM and last updated 12/13/2021 6:38:28 AM