Gladiator
(グラディエーター)
Released in 1988
Developer: Taito
Manufacturer: Taito
Distributor: Taito

(0 total votes)

Game Summary
A fighting game where objects are hurled at you so you will gain practice when you fight others to be the best. Or something.
Hardware Info
Controls: 1 Joystick / Button(s)
Horizontal-mounted Raster monitor
256 x 224 Resolution
Colors: 514 Color
Additional Hardware Info (from Mame)
Z80 cpu @ 6 Mhz
Z80 cpu @ 3 Mhz
M6809 cpu
YM-2203 audio @ 1 Mhz
MSM5205 audio
Mame ROMs
gladiatr, Gladiator (US)
ogonsiro, Ohgon no Siro (Japan)
Game Details
This is a one player game. Actions were high, med, low attack and shield. Several stages and bosses. I have beat this game twice. That's all for now, unless you E-mail me before I return to your page.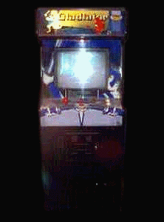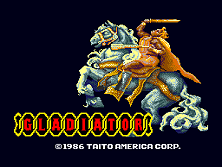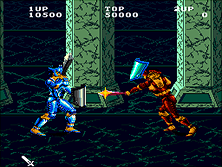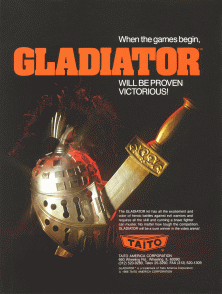 Search the following for Gladiator
This game page was created 8/3/98 12:00:00 AM and last updated 3/26/02 8:54:16 PM