Ads were removed from the site on 2021-10-17. Updates to the site have commenced after a long hiatus. More to come.
Pirate Ship Higemaru
Released in 1984
Developer: Capcom
Manufacturer: Capcom
Distributor: Capcom






(1 total votes)
Game Summary
Pirate ship game similar in play to Pengo.
Additional Hardware Info (from Mame)
Z80 cpu @ 4 Mhz
AY-8910 audio @ 2 Mhz
AY-8910 audio @ 2 Mhz
Hardware Platform
Capcom Z80 Based
Mame ROMs
higemaru, HigeMaru
Game Details
This game features one of the first game soundtracks composed by Tamayo Kawamoto, who made also other Capcom 80's BGM like Speed Rumbler. She now works at Taito: she's a member of Zuntata, the popular (well, in Japan) Taito band where she plays keyboards. Among her latest compositions: Darius Omnibus, Raycrisis, and Raystorm.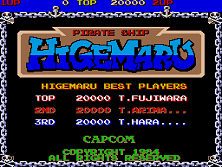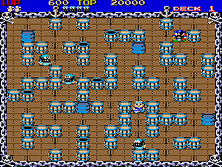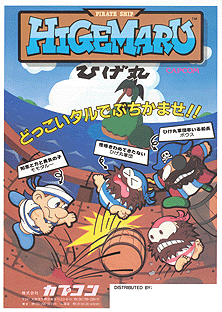 Search the following for Pirate Ship Higemaru
This game page was created 8/3/1998 12:00:00 AM and last updated 12/13/2021 6:38:28 AM