Ads were removed from the site on 2021-10-17. Updates to the site have commenced after a long hiatus. More to come.
Hoccer
Released in 1983
(0 total votes)

Game Summary
Hoccer is a future sport combining elements of hockey and soccer.
Hardware Info
Controls: 1 Joystick / Button(s)
Vertical-mounted Raster monitor
224 x 256 Resolution
Colors: 256 Color
Additional Hardware Info (from Mame)
Z80 cpu @ 3 Mhz
AY-8910 audio @ 1 Mhz
Mame ROMs
hoccer, Hoccer (set 1)
hoccer2, Hoccer (set 2)
Game Details
AKA Bodycheck Hockey. Released by Eastern Micro Electronics.
Score as many goals as you can and be the last one standing. Body checking or shooting the puck directly at the players of the opposing team earns you points as well as hitting star side targets.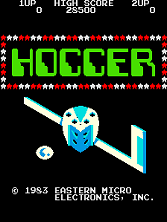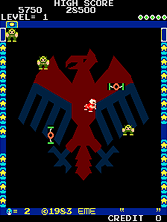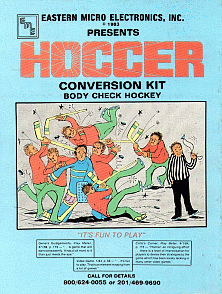 Search the following for Hoccer
This game page was created 8/3/1998 12:00:00 AM and last updated 1/23/2021 10:18:58 AM