Ads were removed from the site on 2021-10-17. Updates to the site have commenced after a long hiatus. More to come.
Super Sprint
(スーパースプリント)
Released in 1986
Developer: Atari
Manufacturer: Atari
Distributor: Atari






(4 total votes)

Game Summary
An overhead racing game for 1 or 2 players.
Hardware Info
Controls: Steering / Pedal(s)
Horizontal-mounted Raster monitor
512 x 384 Resolution
Colors: 256 Color Overlay
Additional Hardware Info (from Mame)
T11 cpu @ 10 Mhz
M6502 cpu @ 1 Mhz
YM-2151 audio @ 3 Mhz
Pokey audio @ 1 Mhz
Pokey audio @ 1 Mhz
Hardware Platform
Atari System 2
Mame ROMs
ssprint, Super Sprint
Game Details
A race against 3 opposing cars, one of which may be another live player. You can continue for free as long as you defeat all computer controlled cars. Gates would open periodically, providing shortcuts. Oil slicks and puddles provided obstacles. Pick up wrenches on the course to increase one of four attributes: Speed, Acceleration, Traction, or Helicopter speed (the helicopter dropped you a new car when you crashed.) The game was released in a three-player version as Championship Sprint.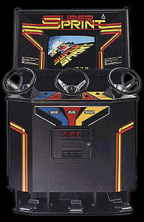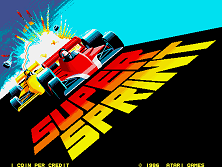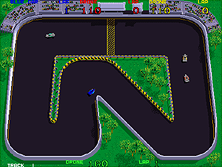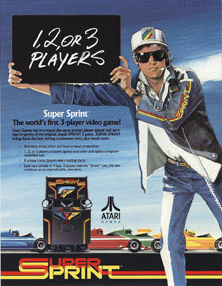 Search the following for Super Sprint
This game page was created 8/3/1998 12:00:00 AM and last updated 6/27/2000 5:17:51 PM