Ads were removed from the site on 2021-10-17. Updates to the site have commenced after a long hiatus. More to come.
Vapor Trail
(空牙)
Released in 1989
Developer: Data East
Manufacturer: Data East
Distributor: Data East

(0 total votes)

Game Summary
Vapor Trail: Hyper Offense Formation, known in Japan as Kuuga – Operation Code Vapor Trail (空牙 – Operation Code Vapor Trail) and usually simply referred to as Vapor Trail, is a 1989 shoot 'em up arcade game developed and published by Data East. Vapor Trail was followed by Rohga: Armor Force and Skull Fang.
Additional Hardware Info (from Mame)
68000 cpu @ 12 Mhz
H6280 cpu @ 4 Mhz
YM-2203 audio @ 4 Mhz
YM-2151a audio @ 3 Mhz
OKI6295 audio
OKI6295 audio
Mame ROMs
vaportra, Vapor Trail - Hyper Offence Formation (US)
kuhga, Kuhga - Operation Code 'Vapor Trail' (Japan revision 3)
Game Details
In 1999, a terrorist organization known only as DAGGER has occupied the city of New York where they have hacked into military defenses world-wide, established their own military command and gained access to nuclear missile silos. They hold the world hostage in this position and promise to cancel their threats of destroying the Earth only until the world's governments relinquish their power to DAGGER.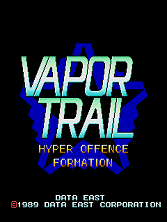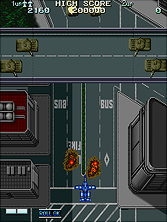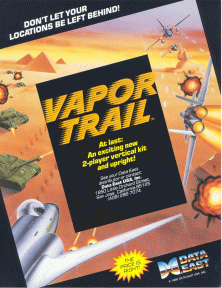 Search the following for Vapor Trail
This game page was created 8/3/1998 12:00:00 AM and last updated 1/22/2021 11:39:27 AM