Wardner
(ワードナーの森)
Released in 1987
Developer: Taito
Manufacturer: Taito
Distributor: Taito

(0 total votes)

Game Summary
Scrolling platform adventure, similar to Wonder Boy.
Hardware Info
Controls: 1 Joystick / Button(s)
Horizontal-mounted Raster monitor
320 x 240 Resolution
Colors: 1792 Color
Additional Hardware Info (from Mame)
Z80 cpu @ 6 Mhz
Z80 cpu @ 3 Mhz
320C10 cpu @ 3 Mhz
YM-3812 audio @ 3 Mhz
Mame ROMs
wardner, Wardner (World)
pyros, Pyros (US)
wardnerj, Wardner no Mori (Japan)
Game Details
A kind of Wonder Boy with less sophisticated visuals but some gripping gameplay. 5 Levels in total, each requiring different playing skills to defeat. Quite a nice finale against a rather huge demon. Also known as Wardner's Forest and Pyros.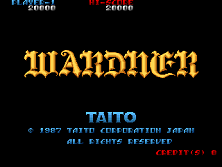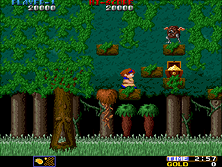 Search the following for Wardner
This game page was created 8/3/98 12:00:00 AM and last updated 9/10/99 8:51:40 AM