Ads were removed from the site on 2021-10-17. Updates to the site have commenced after a long hiatus. More to come.
Blade Master
Released in 1991
Developer: Irem
Manufacturer: Irem
Distributor: Irem

(0 total votes)
Game Summary
Sideways scrolling hack-n-slash, set in a mythical land.
Hardware Info
Controls: 1 Joystick / Button(s)
Horizontal-mounted Raster monitor
320 x 240 Resolution
Colors: 1024 Color
Additional Hardware Info (from Mame)
V33 cpu @ 20 Mhz
Hardware Platform
Irem M92
Mame ROMs
bmaster, Blade Master (World)
Game Details
You control either Roy or Arnold in their quest to rescue the princess Emina.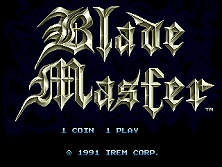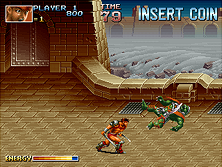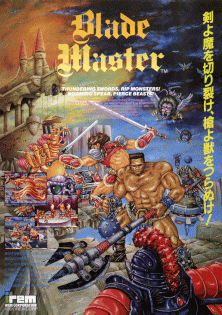 Search the following for Blade Master
This game page was created 8/3/1998 12:00:00 AM and last updated 12/13/2021 6:38:28 AM