Ads were removed from the site on 2021-10-17. Updates to the site have commenced after a long hiatus. More to come.
Cadillacs & Dinosaurs
(キャデラックス&ディノサウルス)
Released in 1992
Developer: Capcom
Manufacturer: Capcom
Distributor: Capcom






(4 total votes)

Game Summary
Typical Double Dragon style fighting game
Additional Hardware Info (from Mame)
68000 cpu @ 10 Mhz
Z80 cpu @ 4 Mhz
Custom audio
Hardware Platform
Capcom System 1
Mame ROMs
dino, Cadillacs and Dinosaurs (World)
dinoj, Cadillacs Kyouryuu-Shinseiki (Japan)
Game Details
The game follows the plot of the comic book and short-lived cartoon series. You play as one of the three main characters (Jack, Mustafa and a woman whose name eludes us) and your goal is to save the dinosaurs from the poachers. Each level contains the usual amount of ennemies as well as a certain number of dinosaurs (the number varies per level). Weapons and power-ups are plentifull and varied. The guns are particularily innovative. Each level is guarded by a boss character taken strait fron the pages of the comic books. At the end of the game, you must face of against the leader of the poachers.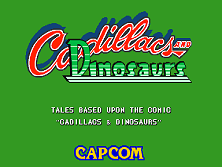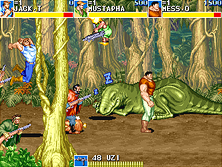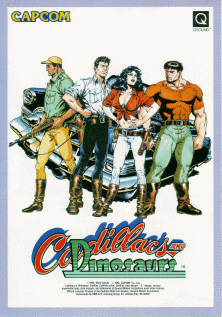 Search the following for Cadillacs & Dinosaurs
This game page was created 8/3/1998 12:00:00 AM and last updated 6/20/2000 9:38:58 PM