Knights of the Round
(ナイトオブザラウンド)
Released in 1991
Developer: Capcom
Manufacturer: Capcom
Distributor: Capcom

(0 total votes)

Game Summary
Standard golden axe style game.
Additional Hardware Info (from Mame)
68000 cpu @ 10 Mhz
Z80 cpu @ 4 Mhz
YM-2151 audio @ 3 Mhz
OKI6295 audio
Hardware Platform
Capcom System 1
Mame ROMs
knights, Knights of the Round (World)
knightsj, Knights of the Round (Japan)
Game Details
1-3 player arcade game where you play Arthur, Lancelot or Percival. Standard Golden Axe style slasher but quite good fun. Collect power ups to increase character level and thereby become more powerful. A nice addition is given by seeing your opponents health bars also.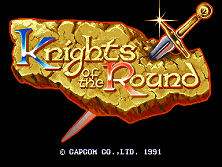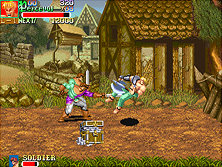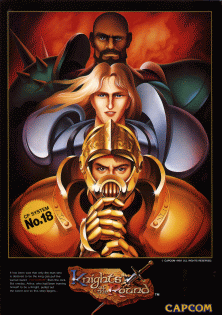 Search the following for Knights of the Round
This game page was created 8/3/98 12:00:00 AM and last updated 7/7/01 6:00:05 PM