Ads were removed from the site on 2021-10-17. Updates to the site have commenced after a long hiatus. More to come.
R-Type Leo
(R-Type LEO)
Released in 1992
Developer: Irem
Manufacturer: Irem
Distributor: Irem





(1 total votes)
Game Summary
The last arcade game in the R-Type Trilogy by IREM. Rare, energetic, but lacks the skills and inteligence that the former R-Types require.
Hardware Info
Controls: 1 Joystick / Button(s)
Horizontal-mounted Raster monitor
320 x 240 Resolution
Colors: 1024 Color
Additional Hardware Info (from Mame)
V33 cpu @ 20 Mhz
Hardware Platform
Irem M92
Mame ROMs
rtypeleo, R-Type Leo (Japan)
Game Details
Although the R9 reappears (simultaneously in 2 player mode), the famous orb is replaced with a power-up icon, and two smaller orbs, which unleash 3 types of laser fire-power. The beam-up has bee replaced with the new orbs homing in on enemies and devestating them.
Made on the M92 pcb rather than the M72, R-Type Leo features only 4 levels with enchaned colours and backdrops, rocking bassy music and simultaneous two player.
Apparently only released for the Japanese market, the pcb is now rare in the rest of the world - and seems to have only been issued in a kit form.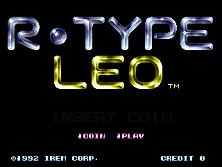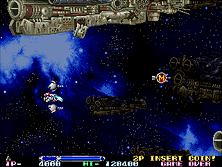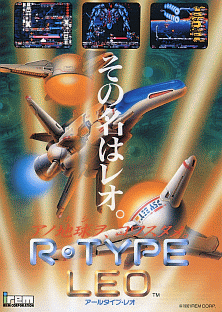 Search the following for R-Type Leo
This game page was created 8/3/1998 12:00:00 AM and last updated 6/26/2000 8:33:03 PM