Ads were removed from the site on 2021-10-17. Updates to the site have commenced after a long hiatus. More to come.
Front Line
(フロントライン)
Released in 1982
(0 total votes)

Game Summary
WWII Shoot-em-up
Additional Hardware Info (from Mame)
Z80 cpu @ 4 Mhz
Z80 cpu @ 3 Mhz
M68705 cpu @ 1 Mhz
AY-8910 audio @ 1 Mhz
AY-8910 audio @ 1 Mhz
AY-8910 audio @ 1 Mhz
AY-8910 audio @ 1 Mhz
DAC audio
Hardware Platform
Taito SJ System
Mame ROMs
frontlin, Front Line
Game Details
Front Line was a bottom-to-top scrolling shooter with an unusual POV. It had a WW2 theme. The player was a G.I. traversing a battlefield from north to south - the gameplay looks a lot like Ikari Warriors. Enemy infantry attacked, as did enemy tanks. The player could jump into light or heavy tanks as he came across them, and if your tank was hit, you had a chance to bail out before it blew. The objective at the end of increasingly difficult levels was to destroy a fort. The controls featured a spinning knob (as seen in Tin Star) which allowed the player to fire in one direction (in a 360 range) while moving in another.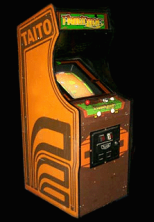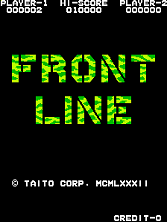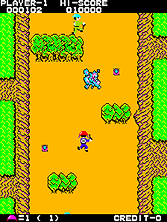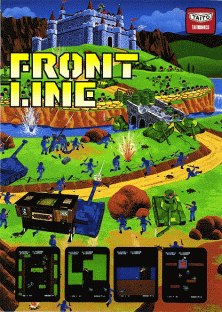 Search the following for Front Line
This game page was created 7/2/2000 9:12:06 PM and last updated 7/6/2000 3:41:00 PM