Ads were removed from the site on 2021-10-17. Updates to the site have commenced after a long hiatus. More to come.
Spy Hunter
(スパイハンター)
Released in 1983
Developer: Bally / Midway
Manufacturer: Bally / Midway
Distributor: Bally / Midway






(2 total votes)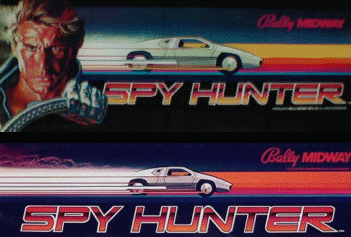 Game Summary
Espionage - car chase
Hardware Info
Controls: Steering / Pedal(s)
Vertical-mounted Raster monitor
480 x 496 Resolution
Colors: 132 Color
Additional Hardware Info (from Mame)
Z80 cpu @ 5 Mhz
Z80 cpu @ 2 Mhz
68000 cpu @ 7 Mhz
AY-8910 audio @ 2 Mhz
AY-8910 audio @ 2 Mhz
DAC audio
Hardware Platform
Bally Midway MCR-Scroll
Mame ROMs
spyhunt, Spy Hunter
Game Details
Very popular violent car chase game - Your spy car can use guns, missiles, oil slicks and smoke screens - drive into moving weapons van to upgrade.
After 30,000 points you approach a fork in the road and if you go left you enter a dock and you then procede by boat untill you enter another dock. Also snow and ice conditions appear as you drive.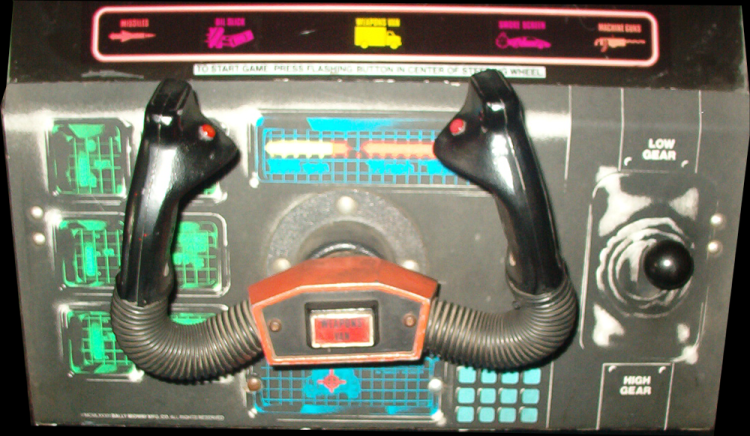 Search the following for Spy Hunter
This game page was created 8/3/1998 12:00:00 AM and last updated 12/13/2021 7:09:34 AM