Ads were removed from the site on 2021-10-17. Updates to the site have commenced after a long hiatus. More to come.
Jump Bug
(ジャンプバグ)
Released in 1981
Developer: Rock-Ola
Manufacturer: Rock-Ola
Distributor: Rock-Ola





(1 total votes)

Game Summary
Guide jumping VW beetle through worlds
Hardware Info
Controls: 1 Joystick / Button(s)
Vertical-mounted Raster monitor
224 x 256 Resolution
Colors: 97 ?Unknown?
Additional Hardware Info (from Mame)
Z80 cpu @ 3 Mhz
AY-8910 audio @ 1 Mhz
Hardware Platform
Galaxian hardware
Mame ROMs
jumpbug, Jump Bug
jumpbugb, Jump Bug (bootleg)
Game Details
A lot like Scramble, but with platform elements too - weird levels (cloud city, pyramids, underwater etc.) but very playable.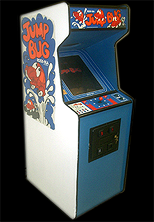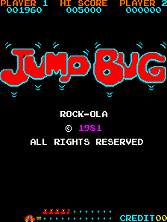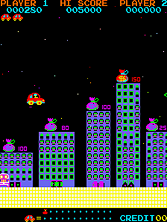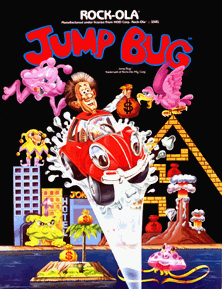 Search the following for Jump Bug
This game page was created 8/3/1998 12:00:00 AM and last updated 6/23/2000 11:04:54 AM