Ads were removed from the site on 2021-10-17. Updates to the site have commenced after a long hiatus. More to come.
War of the Bugs
(ウォーオブザバグ)
Released in 1981
Developer: Cinematronics
Manufacturer: Cinematronics
Distributor: Cinematronics

(0 total votes)
Game Summary
Centipede Clone.
Additional Hardware Info (from Mame)
Z80 cpu @ 3 Mhz
Custom audio
Hardware Platform
Galaxian hardware
Mame ROMs
warofbug, War of the Bugs
Game Details
Made by Armenia, according to MAME. Licensed to Cinematronics.
Writen by Armenia Ltd. Copyright Food and Fun Corp. A Centipede rip-off, with a galaxian-style scrolling starfield(!). Plays very similar to Centipede, but bigger graphics.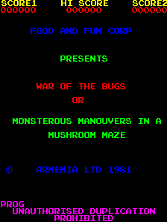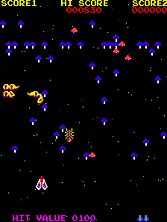 Search the following for War of the Bugs
This game page was created 8/3/1998 12:00:00 AM and last updated 6/28/2000 10:13:30 AM