Ads were removed from the site on 2021-10-17. Updates to the site have commenced after a long hiatus. More to come.
King & Balloon
(キング&バルーン)
Released in 1981
Developer: Namco
Manufacturer: Namco
Distributor: Namco

(0 total votes)
Game Summary
Shoot attacking ballons to guard king.
Hardware Info
Controls: 1 Joystick / Button(s)
Vertical-mounted Raster monitor
224 x 256 Resolution
Colors: 97 Color
Additional Hardware Info (from Mame)
Z80 cpu @ 3 Mhz
Z80 cpu @ 2 Mhz
Custom audio
DAC audio
Hardware Platform
Galaxian hardware
Mame ROMs
kingbalj, King & Balloon (Japan)
Game Details
This game is what you'd get if you crossed Galaxin with Donkey Kong 3. Players must shoot down attacking balloons, which peel out of formation to capture the king, below the player's ship. If captured, the king is carried toward the top of the screen, and the player must destory the escaping balloon before it reaches the top of the screen.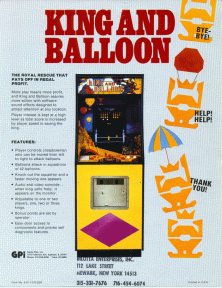 Search the following for King & Balloon
This game page was created 8/3/1998 12:00:00 AM and last updated 6/23/2000 11:16:43 AM