Ads were removed from the site on 2021-10-17. Updates to the site have commenced after a long hiatus. More to come.
Megaman: The Power Battle
Released in 1994
Developer: Capcom
Manufacturer: Capcom
Distributor: Capcom






(1 total votes)

Game Summary
A decent platformer to look at and has excellent novelty and collectable value but isn't the most fun to play.
Additional Hardware Info (from Mame)
68000 cpu @ 10 Mhz
Z80 cpu @ 4 Mhz
YM-2151 audio @ 3 Mhz
OKI6295 audio
Hardware Platform
Capcom System 1
Mame ROMs
megaman, Mega Man - The Power Battle (Asia)
rockmanj, Rockman - The Power Battle (Japan)
Game Details
This game was released on both of Capcom's CPS1 and CPS2 hardware. Both are very rare and now hard to find anyware. The game wasnt really a hit in the US so not many units were made. The gameplay basicly consisted of the player choosing one of 3 heroes. You take your hero and fight against various bosses from the Mega Man nintendo and SNES games. You could choose to go against the bosses from Mega Man 1 and 2, 3 and 4, 5 and 6, or 7. All you did in the game was fight bosses. Graphics were good for the time, but the game was primitive and the bosses patterns were easy.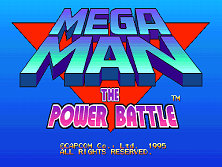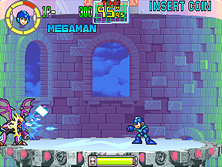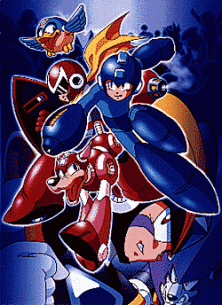 Search the following for Megaman: The Power Battle
This game page was created 8/3/1998 12:00:00 AM and last updated 6/26/2000 1:48:19 PM