Ads were removed from the site on 2021-10-17. Updates to the site have commenced after a long hiatus. More to come.
Stakes Winner 2
Released in 1996
Developer: Saurus
Manufacturer: Saurus
Distributor: Saurus

(0 total votes)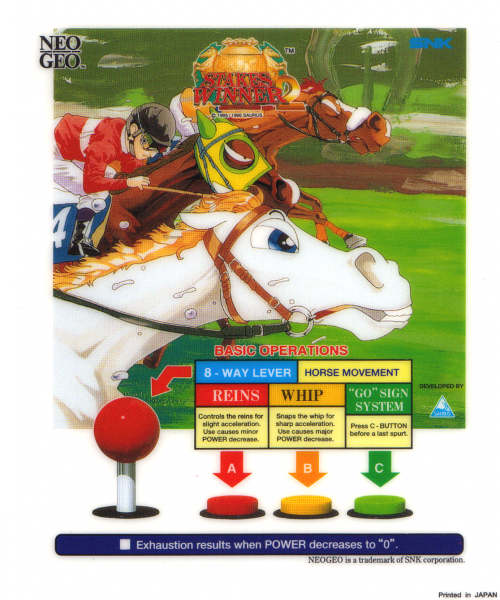 Game Summary
Pick your horse and race through both the US and European race circuits in this Neo Geo .
Hardware Info
Controls: 1 Joystick / Button(s)
Horizontal-mounted Raster monitor
304 x 224 Resolution
Colors: 4096 Color
Additional Hardware Info (from Mame)
68000 cpu @ 12 Mhz
Z80 cpu @ 6 Mhz
YM-2610 audio @ 8 Mhz
Hardware Platform
SNK NeoGeo MVS
Mame ROMs
stakwin2, Stakes Winner 2
Game Details
Features actual races from both circuits with both colts and fillies. Train your horse as well as your jockey between races. Buy items you need to stay competitive with your winnings.
This game was only released in Japan.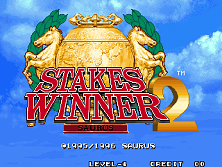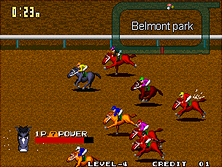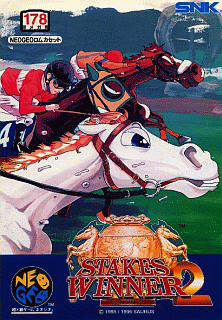 Search the following for Stakes Winner 2
This game page was created 8/3/1998 12:00:00 AM and last updated 6/27/2000 4:46:30 PM