The National Coin-Op and Video Game Museum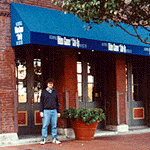 St. Louis, Missouri, November 1994
(by Stephen J. Ryner)
Sadly, it seems the National Coin-Op and Video Game Museum has finally closed its doors. The manager, Chris Lindsay, had reported the museum had been losing money and was unlikely to last once its parent company had been acquired. This page is nowin memoriam...
It was a beautiful autumn afternoon when Richard Allan and I visited the St. Louis Video Game museum for the first time. The museum was a short walk from the Arch to Laceeds Landing,a tourist trap of sandblasted brick and trendy bars. We quickly spotted the blue awnings of the museum and made a beeline for the entrance.
We had heard about the legendary museum from collectors on the usenet newsgroup rec.games.video.arcade.collecting, and it was an important "must see" for our trip. Now, here's your chance to virtually visit a classic arcade game heaven!
The museum was open free of charge. It was basically a very nice arcade full of classic games. Each game was labelled with a sign explaining a bit of its history, and you can play until you run out of quarters. There are also a few exhibits with advertisements, posters, and other memorobilia from the classic days before the Crash. There are a handful of pinball games, as well as a couple ofelectromechanical coin-ops. But the emphasis was on video games.
Mike Ross was kind enough to type in a list of all the games. Soon you'll be able to use this list to access pictures and information about dozens of classic video games! Thanks, Mike!
Each of the pictures below is a "thumbnail" of a larger picture. This hasn't changed much since the late 90s so forgive the UX.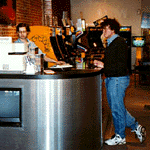 When you first walk in, you can get some change.That's what Rich is doing here. Or maybe he's buying a T shirt. Or just trying to collect himself before moving further inward. One of the first things you'll notice is a Dragon's Lair and Dragon's Lair II side by side, with an external monitor to help you watch the action. Behind the cashier it looks like an invasion of the yellow Pac Man family has taken place... they have a space of their own! There's a couple of coin-ops, an Asteroids, a sit-down Star Wars, and a sit-down Star Trek. There's a hallway leading to two back rooms where you can make out...a Space Ace, Dig Dug, and hey, is that a Q*bert back there?

They're Heeere... There's Pac Man, Pac Man Plus, Super Pac Man, Pac Mania, and the monstrous half-vid, half-pin disaster, Baby Pac Man. Not shown, but also present is Professor Pac Man, a cocktail Ms. Pac Man, and who knows what others. Oh yes, there is the miraculous transparent Ms. Pac Man Very educational!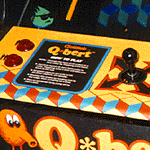 This quickly became my favorite room. A Q*bert to the right, and a beautiful Dig Dug in the middle of the room. Sure, there's a Donkey Kong, but it's not museum quality. I have a nicer one back home, for crying out loud. There's one of those Hologram games, and a Popeye that looks attractive. But it's been a while since I've played Qix. Darn, that's hard. Hey, here's a good two player game to try with Rich: yes, it's Death Race! Maybe we'll fly through the dayglow St. Louis arch in this old mechanical game here...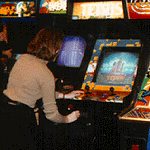 Dodging the stand up Battlezone, you try not to trip over a cocktail Zaxxon while gawking at Pong and Computer Space glittering to the side. (A sign explains the Space Invaders is out for repairs.) You make out yet another room. There are some pinball games here, from very old models dating back before the war, to Superman to Gorgon to Eight Ball and Cyclone. Looks like an escapee from the Pac Man crowd is here, too.

But of course, the emphasis here is on video games. Marble Madness in the distinctive Atari System I cabinet, standing next tothe black-balled Millipede in the traditional Atari cabinet. There's Phoenix, Missle Command, Galaxian, and Galaga. Then a mint condition Centipede, then Tron, Berzerk, Tetris, and... could it be a Joust back there?
This isn't all of the games. There's a room off to the side behind this doorway. Look, more games! Looks like a repair room. They have their own shop back here. Maybe I should bring in some of my games... Hey, where's the restroom?
links to like
KLOV
Killer List of Videogames.
Good Deal Games
Old console heaven. These people still release new games for ColecoVision, Vectrex, and other consoles.
Arcade Restoration Workshop
This site is about restoring arcade games to their former splendor. Run by Brien. Swell.
Twin Galaxies
The worldwide authority on player rankings, gaming statistics, and championship tournaments.
Universal Videogame List
I had an idea to database all games ever a while back, but just thinking about it made me tired. This lunatic is attempting it.
RetroBase
Oh look, another lunatic. This site seems to be a competitor to the UVL above, but has a different look.
Videotopia
An international traveling museum exhibit chronicling the history of mankind's first interactive media.