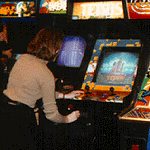 The National Coin-Op and Video Game Museum
The North Room
November 1994

Dodging the stand up Battlezone, you try not to trip over a cocktail Zaxxon while gawking at Pong and Computer Space glittering to the side. Actually, they have two Computer Space machines, one red, one green. (A sign explains the Space Invaders is out for repairs.) You make out yet another room. There are some pinball games here, from very old models dating back before the war, to Superman to Gorgon to Eight Ball and Cyclone. Looks like an escapee from the Pac Man crowd is here, too.

But of course, the emphasis here is on video games. Marble Madness in the distinctive Atari System I cabinet, standing next to the black-balled Millipede in the traditional Atari cabinet. There's Phoenix, Missle Command, Galaxian, and Galaga. Then a mint condition Centipede, then Tron, Berzerk, Tetris, and... could it be a Joust back there?


Each of the pictures below is a "thumbnail" of a larger picture.
Click here to go back to the CoinOp Museum page.

---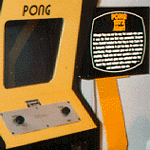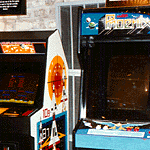 links to like
KLOV
Killer List of Videogames.
Good Deal Games
Old console heaven. These people still release new games for ColecoVision, Vectrex, and other consoles.
Arcade Restoration Workshop
This site is about restoring arcade games to their former splendor. Run by Brien. Swell.
Twin Galaxies
The worldwide authority on player rankings, gaming statistics, and championship tournaments.
Universal Videogame List
I had an idea to database all games ever a while back, but just thinking about it made me tired. This lunatic is attempting it.
RetroBase
Oh look, another lunatic. This site seems to be a competitor to the UVL above, but has a different look.
Videotopia
An international traveling museum exhibit chronicling the history of mankind's first interactive media.